Materialise OrthoView
Learn how to set up the image-based medical planning software, explore the tutorials we've created to boost your orthopaedic project, or get inspired by webinars hosted by leading experts.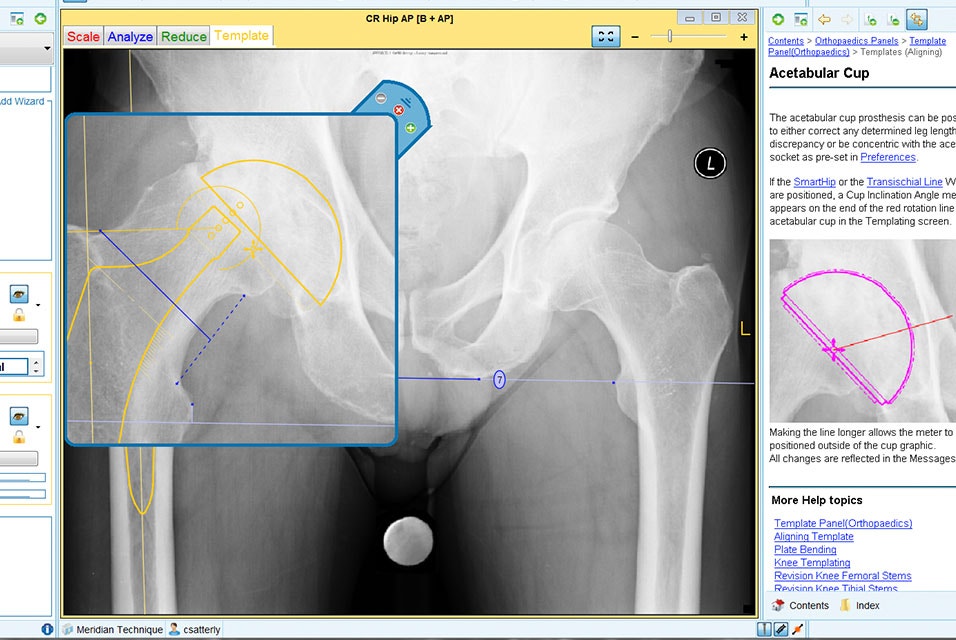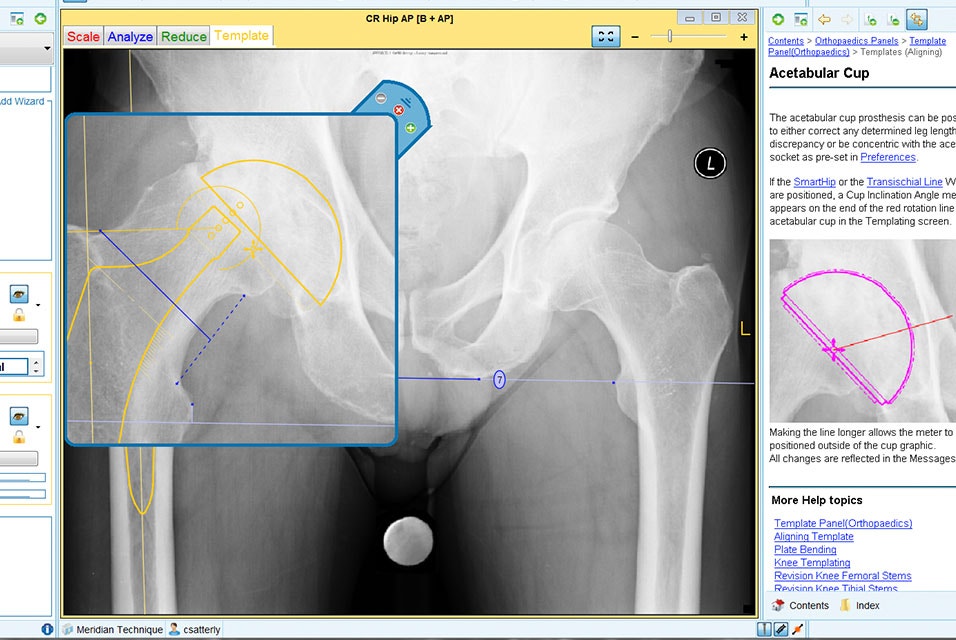 Frequently asked questions
Digital prosthesis templates
Which orthopedic templates are available in Materialise OrthoView?
There are currently over 200,000 prosthesis templates in the OrthoView library. We collaborate with over 70 orthopaedic device manufacturers (including all the major brands) to create digital templates according to their data and clinical guidelines. Here is a complete list of the prosthesis templates in the Digital Template Library.
If we do not already have your chosen prostheses in the template library we will liaise with the manufacturer to get the data and create the templates for you.
Digital prosthesis templates are provided and updated free of charge as part of your Materialise OrthoView Support contract.
How do I get the templates I need?
Customers using v7.0.x and earlier, can download their prosthesis templates from their account on MyOrthoView.com at any time and save them for future use.
Customers using v7.1.x and later, can benefit from the new Template Management service.  While the older manual service above is still supported, the new service allows Materialise OrthoView to directly connect to our digital template library and download templates as you require them.  This service will require an Internet connection to connect and obtain templates. To enquire about upgrading or configuring this within your hospital network, please contact your local Materialise office or contact us.
How are the templates kept up to date?
Materialise OrthoView digital templates have a 12-month life span. At the end of this period, the software notifies you that the template has expired and a replacement template can be simply downloaded from the Myorthoview.com website.
Using v7.2.x and above, the new service will always keep your templates up to date – this is subject to an Internet connection and maintenance contract.
How long after the launch of a new implant is the template available?
New templates are typically ready for Materialise OrthoView users 4-6 weeks after we have received the digital template drawings from the manufacturer.
Which procedures are templates available for?
Materialise OrthoView provides digital templates for all joint arthroplasty, fracture management, and limb deformity correction procedures.
How do I get technical support for my Materialise OrthoView system?
If your hospital or clinic purchased Materialise OrthoView through your PACS supplier, please contact them initially. If your software was purchased directly from Materialise, please reach out to customer support.
Which versions of Windows are supported?
For the client / workstation: Windows 7, 8, 8.1, 10, 11 (x86 or x64)
For the server: Windows Server 2012 R2 (x86 or x64) Standard, Windows Server 2016, Windows Server 2019, Windows Server 2022
Can I run Materialise OrthoView on an Apple computer?
No, OrthoView no longer supports MAC OSX. Please contact us to inquire about compatibility and licensing.
Can the Materialise OrthoView server be installed on a virtual machine (VM)?
What is the latest version of Materialise OrthoView?
The latest version, directly supplied from us, is v7.1 If you have purchased Materialise OrthoView from your PACS vendor, the latest version they will offer might differ.  Please contact us or your PACS vendor for more information.
Software upgrades are available when a valid maintenance contract is in place.  This will also be affected by how you have purchased it.
If I purchase a system directly from Materialise, who will connect it to the hospital PACS?
Your hospital's PACS administration should be able to take care of this in conjunction with our engineers. However, assistance from your PACS supplier may be required. Please be aware your PACS supplier may charge for this.
Can I use the software at home, not just at the hospital where it is installed?
If your hospital gives you access to the PACS from home, you may be able to access Materialise OrthoView from your home too. Please check with your hospital PACS administrator. Alternatively, you could choose our cloud solution to access Materialise OrthoView from any location where you have internet access. Contact us for more details.
What are the system requirements for the client/workstation?
Operating System: Windows Vista, Windows 7, Windows 8 or Windows 10 (x86 or x64)  (All available service packs and updates) (Operating System support dependant on version of software)
2Ghz CPU 4 GB RAM 2 GB HDD Space
Vertical screen resolution of 1024 pixels or greater (e.g. 1280 x 1024)
Network connectivity to the PACS server
Additional ports may be required depending on configuration
What are the system requirements for a server installation?
Server: Windows Server 2008 R2, 2012 R2 or 2016 Standard Edition (All available service packs and updates)
Hard Disk Drive: 80GB with Redundancy (e.g. RAID1, RAID5))
RAM: 2GB
CPU: 2GHz Dual Core Xeon Class CPU
Power Supplies: Redundant
Network: Gigabit
Physical or Virtual Server
The OR (Order Reference) number is the unique identifier for your Materialise OrthoView license. It always begins with OR and is followed by at least 4 digits e.g. OR 1234-xxxxxxx. You will be asked for just the first 4 digits of your OR number when you contact our Support team.
Where can I find my OR number?
The OR number for your Materialise OrthoView license (e.g. OR 1234) can be found in the Help menu of your OrthoView software. Select 'License Manager' in the dropdown Help menu to see details of your license and the software version you are using. The License file name (if you received one for installation) also starts with the OR number.
Can I save my pre-operative planning work back to PACS?
When Materialise OrthoView is integrated with or connected to the PACS, the templated image and report can be saved back to the PACS.
Can't find what you're looking for?
Our support team is available to answer your questions and provide assistance whenever possible. This service is included for customers with a valid maintenance package.